Microsoft Teams is growing incredibly fast
Due to the coronavirus pandemic and a huge increase in the number of people working remotely, the use of the collaboration tool Microsoft Teams has exploded. The number of daily active users of Microsoft Teams have more than doubled in recent months, increasing from 32 million users in March 2019 to 75 million as of April 2020.
Microsoft also has 258 million paid seats for Microsoft 365 (formerly named as Office 365), which includes access to Microsoft Teams. Currently nearly 30 percent of its Microsoft 365 paid seats are using Teams already.
Cross team collaboration leads to several Microsoft Accounts
The success shows that Microsoft with Teams has brought a great product to market. What makes Teams so successful is that collaboration also works well across teams and companies. It is very easy to engage external users such as partners, customers, consultants etc. into collaborating teams.
One result is that countless people have been invited in many different Teams organizations (technically named tenants or instances). You will not have a problem if you are working in several teams with only one email address resp. one Microsoft account. But for many users it is a challenge to manage multiple Teams with different accounts.
A usual scenario is that customers or partners are creating a separate email mailbox for you in their organization, instead of inviting you to their Teams tenant as guest with your existing email address. Probably there are organizational reasons for this, but it means you must work in two or more Teams tenants with various Microsoft accounts (for example: me@mycompany.com, me@mycustomer.com etc.).
THE PROBLEM

Switching between Microsoft Teams accounts is a hassle

The ability to use multiple Teams accounts at the same time is supported on iOS & Android apps today but it is not supported on the desktop app and web clients. That is a hassle because if you want to shift from one Teams account to another, you must log out of one account and log into another. It is annoying, tedious and every day you lose a lot of time. Plenty of Teams users are looking desperately for a solution to tackle this hassle.
This problem affects not only Teams, but also all other Microsoft solutions because if you work in different organizations you need to manage multiple accounts in general.
The good news is, with Basaas you can easily solve this problem right now.
THE SOLUTION

Work across multiple Microsoft Teams accounts in one unified app

With Basaas you can improve your productivity by switching between your Teams tenants quickly and work in different accounts without logging-in and -out. You can generally use multiple accounts of all your apps, like Microsoft 365, G-Mail, Atlassian, Slack etc. in parallel and receive your notifications in one single place.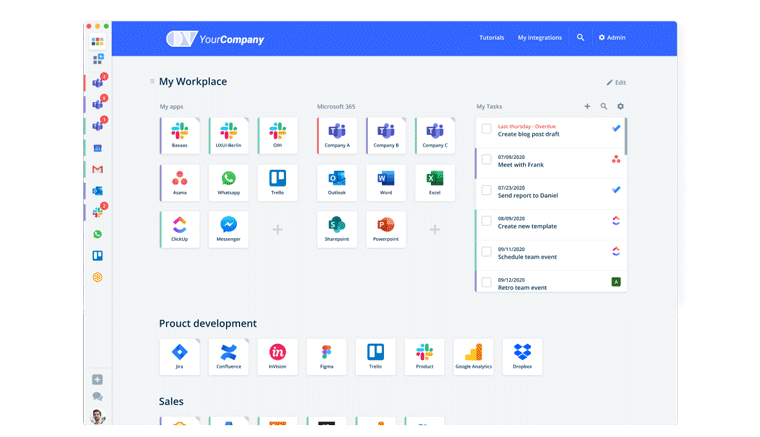 Additionally, Basaas helps you to connect your Teams with all your other apps into one solution and create your personalized digital workplace. The are some cool further features which allows you to accelerate your daily work, e.g. a unified cross app search or widgets to view, edit or add data of your apps directly on your workplace.
Using Basaas For Teams you can enhance productivity in your entire organization. Try Basaas today and find out how easy it is to work with all your Teams accounts at the same time. If your colleges have the same struggle, you can invite all of them within Basaas – for free.